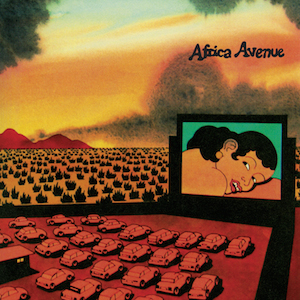 I'd honestly thought Nashville's The Paperhead had dissolved. I wasn't very much impressed with 2011's Self-Titled offering and since that one felt pretty uninspired, I'd figured the band itself didn't have the staying power. Africa Avenue fixes just about everything that was blah about the last record. They now give us tunes that mostly push the three-minute mark with varied tempos, rhythms, instrumentation, and styles.
It's great to hear The Paperhead pull off everything they try for on Africa Avenue; a one-stop psych shop. If they have it in them to make more albums like this one, three years won't be too long a wait for the newly-acquainted legions of fans they're bound to acquire.
Brooklyn's Weed Hounds are the reverse-mullet of the shoegaze genre; party-in-the-front (moniker), business-in-the-back (music). Maybe it took them five years to get this album realized because they truly are weed hounds. Or maybe they just didn't want to scrimp on anything production-wise and that requires more time and money. They certainly picked a solid industry vet in Ben Greenberg to record them. This debut has no feeling of haste to it and I'm thankful for whatever care was put into it 'cause it amounts to one if not the best shoegaze albums of 2014.
Their sound isn't as self-serious as most shoegaze acts; it leans towards the poppier side of the spectrum, in vein of The Breeders. That's not to say the rhythm section isn't plenty punishing. The bass is eagle wing-span wide and there's no shortage of crash cymbals. Of course, a two-guitar assault reigns atop everything. Weed Hounds pack an undeniable WHALLOP, not unlike certain edibles that'll sequester users in restricted, all-day sitting positions.
I think Teledrome's Canadian label, Mammoth Cave, sent out a memo as part of one their newsletters stating something to the effect of this most likely being the band's only record. I can't remember the reason behind the dissolution. Maybe I'm mistaken, but if it's true, it's a damn shame 'cause talent like this needs to be showcased.
This Self-Titled, 16-wheeled Mack Truck of synth dominance is some of the most fun listeners will have in 2014. Ten tracks finishing in twenty minutes is all I needed to become a slobbering, self-loathing, key-and-knob-worshiping mess. Not only do I want to listen to this thing three times a day, I can. Teledrome possesses endlessly hummable hooks played by some hardcore Devo disciples. It compliments figuring out Dungeons & Dragons game scenarios whilst pining for the girl or guy next-door.